2019 - 2021 Scholar Send Off
19 August 2019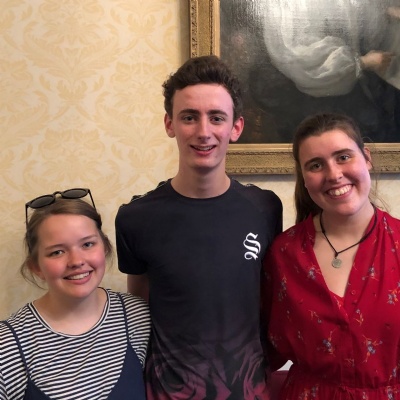 United World College Ireland has announced its three scholarship recipients for the 2019-2021 cycle.
We are delighted to have recently hosted out Scholars Send Off for our three new scholars who are heading off to start their UWC journey in a matter of weeks! All three students have been selected on the basis of a strong academic record, commitment to public service, and personal leadership. Each student will receive considerable scholarships to facilitate their attendance.
Maeve Galvin from Kinvara, Co. Galway will be attending UWC-USA in New Mexico, USA; Sigrid Sköldberg from Renmore, Co. Galway will be enrolling at UWC Maastricht in the Netherlands, and Michael Munnelly from Athlone, Co. Westmeath will study at UWC Dilijan in Armenia.
Co- Chair of UWC Ireland, Áine Doyle commented:
"It gives me great pleasure to announce this year's group of deserving and talented scholars.
"We hope that UWC's support will help Maeve, Sigrid and Micheal to meet their full potential in the years to come. UWC has strong links with third-level colleges and universities around the world, many of whom will provide considerable scholarships to UWC students who attend their institutions. It can really open up new educational opportunities to Irish students in a way that is unique to UWC Ireland.
Nicola Timmins, Co- Chair of UWC Ireland added:
"This year's scholars come from a very impressive applicant pool, and we are delighted to wish them well as they start their new adventures. These young people will bring back new knowledge, experiences and expertise with them which will benefit Ireland in the long term.
"We will be opening our application for September 2020 entry later this year and we encourage all interested students who have completed their Junior Certificates and who are aged between 15 and 17 years old to apply."